Helpful Moving Tips for Grand Rapids Homebuyers
Monday, March 17, 2014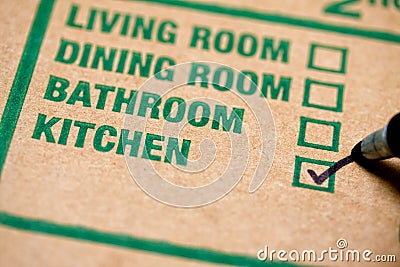 Spring is a busy season for Grand Rapids real estate and if you have just purchased a new home in the Grand Rapids area, moving can be just as stressful. No matter if you're a seasoned homebuyer or have just purchased your first home in Michigan— Grand Rapids homebuyers can always use moving tips, especially from real estate experts. This spring, take some tips from the pros to help you in the moving process to new homes in Grand Rapids, Kent County, Forest Hills, Rockford, Northview, Grandville and more. Read on for ways to make your transition into new homeowner a smooth one this season:
Find a Reliable Moving Company
Many times homeowners don't desire to do all of the heavy lifting themselves in a big move. Taxing belongings from one property in Grand Rapids area real estate to the next can be tiresome— in which case you will need a moving company. But it can be tough to find a reliable moving company, especially if this is the first time you're hiring one. Many times, real estate agents have a recommendation and can refer you to one of their own. As your Grand Rapids Real Estate expert, I am happy to discuss referrals for these types of companies.
Make a List, Check It Twice
There is no such thing as too organized when it comes to moving to new homes in Michigan. Make a timeline for your move and all of the necessary parts and steps that will be involved. Break down the tasks that you should be doing each week and the pieces that should be moved during which times. It can also help to color coordinate boxes and keep a log of them with your timeline and checklist. The earlier you start, the easier it will be come moving time!
Make a Budget
Oftentimes homebuyers, particularly first-time buyers, do not estimate the amount of money it might take to move to a new home in Grand Rapids. Have questions? Real estate agents are always better equipped to discuss the budget of a move and what to account for in that budget— always contact your real estate agent with uncertainties in this area. Remember, they're local, they know the area and can attest to local rates and company pricing. If your budget is tight for your move, your agent will be able to help you get it down to the essentials and keep costs low.
Get Recommendations
Again, finding the right moving company and all of the other services you'll need for a move can be difficult. It's helpful to get recommendations from friends, family, and your local real estate expert who can guarantee a reliable, trusted service for you and your move. You'll save time and money in the long run when you use a trusted company with a proven record. KCM even recommends real estate agents "provide [their] clients with a list of people [they] recommend, including a cleaner, exterminator, interior decorator, handyman, contractor, and anyone else [they] find necessary or helpful to clients during the moving process."
Prepping to move to a new home in the Grand Rapids area this spring? As your local real estate expert, I am happy to discuss what you may need to make your real estate experience this season go according to plan. Don't hesitate to contact me with any questions you may have about the local real estate market, especially as we head into this exciting and busy time.
I happily serve the areas of Grand Rapids, Kent County, Forest Hills, East Grand Rapids, Cascade, Ada, Rockford, Northview, Grandville, Kentwood, Caledonia, Walker, Cedar Springs, Sparta, Belmont, Comstock Park, Byron Center, Wyoming, Alpine, Kenowa Hills, Plainfield, Cannon, Lowell, Sand Lake, Jenison, Hudsonville, Wayland, Belmont, Alto and Kent City.
Mark Brace
Realtor, ABR, GRI, SRES, e-PRO, AHWD

Prudential Preferred REALTOR®